8. August 2011 | Abgelegt unter Artists, Country, Doo-Wop, Labels, News, R'n'R / Rockabilly, Rock'n'Roll, Style, Vampirette Music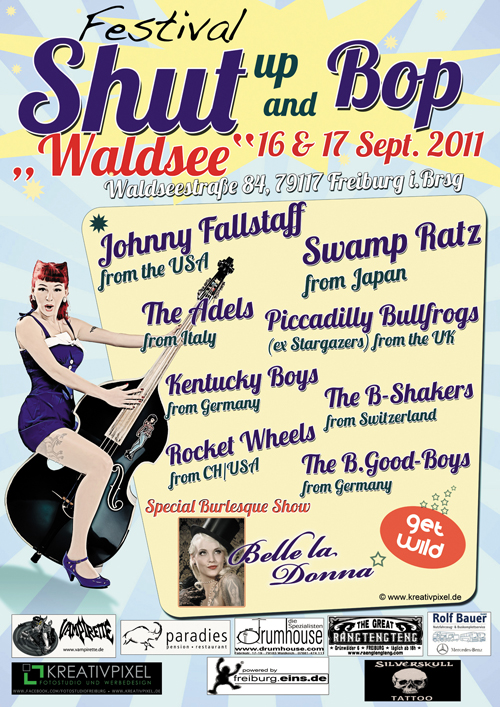 Am 16 und 17. September findet im südwestlichen Freiburg i. Brsg. das "Shut Up and Bop!"-Wochenendfestival statt! In der schönen Location "Waldsee" am Freiburger Stadtrand bietet das Festival einiges für wilde Partys.
Es spielen 8 internationale Liveacts aus 6 Ländern:

Johnny Falstaff (USA)
The Swamp Ratz (Japan)
The Piccadilly Bullfrogs (Ex "Stargazers" – England)
Rocket Wheels (Schweiz)
B-Shakers (Schweiz)
The Adels (Italien)
The Kentucky Boys (Deutschland)
The B. Goode Boys (Deutschland)
Geboten wird außerdem eine erotische Burlesque-Show, präsentiert von der national bekannten "Belle la Donna" (gekrönt von den Zeitschriften "Maxi", "Timeless, oder "GQ" für Fotoshootings, u.a. für Auftraggeber wie Audi Deutschland und Tokio Hotel).
Doch damit noch nicht genug…! Am Samstagnachmittag findet ab 13h ein weiteres Unterhaltungs und Weiterbildungsangebot statt:
Tanzworkshop mit den preisgekrönten Rock'n'Roll Tänzern "Nellia und Dietmar" (90 Minunten).
Rockabilly-Guitarworkshop, durchgeführt vom Schweiz-Amerikaner "Mitch Oliver" der Schweizer Band "Rocket Wheels" (90 Minuten).
Rockabilly Jam-Session für alle anwesenden Musiker und Sänger, denen es in den Fingern juckt und die gerne Ihr Können unter Beweis stellen möchten.

Interessenten können sich über das gesamte Wochenend-Festival von Freiburgs bekanntestem Tätowierer "Tom" (Studio "Silverskull-Tattoo") tätowieren lassen.

Weitere Informationen und Ticketverkauf unter Shut up and Bop.

RSS-Feed zu dieser Kategorie (Vampirette Music)

1 Kommentar »
Ein Kommentar zu "Shut up and Bop"
am 8. August 2011 um 22:28 1.Achim schrieb …

Klasse internationales Lineup. Wenn sie auch was draufhaben ist das eine verdammt coole Angelegenheit 🙂
Einen Kommentar schreiben