Milk. Not the most exciting of products, it has to be admitted. Pour it over your cornflakes, add it to your tea. So how to get consumers excited about milk and build emotional engagement and brand loyalty?
Today Cravendale is the number one milk brand, with sales accounting for 3.7 per cent of all milk bought in the UK and growing at 33 per cent year-on-year.
An advert for Cravendale Milk featuring a 'Toe Tapping' pirate, cyclist and cow has been named the public's favourite of the week in the UTalkMarketing.com People's Choice.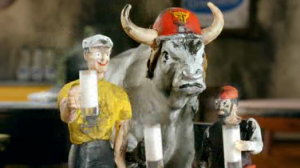 The ad sees the troublesome trio swept up in the euphoria of a rock'n'roll track with the pirate rubbing his wooden leg so hard against a table leg, that it combusts into flames, burning their home to the ground.
Wieden + Kennedy's new work closes with the strapline, "As good hot as it is cold." The advert came tops in the UTalkMarketing People's Choice – a weekly poll, held in collaboration with OMD Snapshots where they ask 1,000 members of the public to vote for their favourite advert currently in the marketplace.

It received 15 per cent of the vote, placing it ahead of the first runner-up, when participants were asked, 'Which of the adverts made you want to buy the product or service advertised?'
'My Baby Is A Hot Rod' is a song from the Prison Band's latest CD '…and the law won!' that will appear on the TV advert campaign for Cravendale Milk on the UK television for 18 months, starting August, 8th 2009.
The TV advert was first shown on April, 14th 2009 on the UK "LIVING CHANNEL" during the criminal series "CSI".
To play the ad in full click the picture below.
[flashvideo file=videos/cravendale_toe_tap_tv30.flv /]
The Prison Band is drinking milk! Mmh, yummy!!
How Cravendale injected fun into the milk sector
Music Week Sync Survey page 13 CRAVENDALE PURFILTRE MILK
RSS-Feed zu dieser Kategorie (Vampirette Music)

Copyright protected © 2012