Here's the Cravendale commercial. Wieden & Kennedy today released a new ad for Cravendale Milk 'Toe Tapping', continuing its theme of animated toy models in bizarre situations.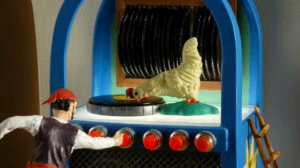 It's part of a series featuring a collection of pals – a cow, a cyclist and pirate sit at the table and the jukebox starts to play a slushy tune. This vexes the pirate, who leaps up and changes the record on the jukebox to his favourite – 'My Baby Is A Hot Rod' by Vampirette Music artist 'The Prison Band' (VAMPCD116). As his excitement grows, he starts tapping his wooden leg to the beat. It rubs against the table leg, and the resulting friction starts a fire that burns the place down. Blackened, hot and dry, our pals are now desperate for a glass of milk – 'AS GOOD HOT AS IT IS COLD!!'
'My Baby Is A Hot Rod' is a song from the Prison Band's latest CD '…and the law won!' that will appear on the TV advert campaign for Cravendale Milk on the UK television for 18 months, starting August, 8th 2009.
The TV advert was first shown on April, 14th 2009 on the UK "LIVING CHANNEL" during the criminal series "CSI".

[flashvideo file=videos/cravendale_toe_tap_tv30.flv /]
Let's go drinking milk! Mmh, yummy!
Hier ist er endlich: Der neue Cravendale Milk TV-Werbespot. Wieden & Kennedy hat heute den neuen TV Werbespot, Toe Tapping' veröffentlicht. Wie schon zuvor sind die Hauptfiguren im Spot animierte Spielzeugmodelle in bizarren Situationen. Der neue TV-Werbespot reiht sich in ein Serienkonzept erfolgreicher Animationsfilme der Wieden & Kennedy sein.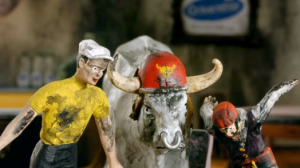 Diesmal sind die Akteure eine Kuh, ein Radfahrer und ein Pirat. Die Freunde sitzen am Tisch, die Jukebox spielt einen schmalzigen Song. Das ärgert den Piraten, der aufspringt, zur Jukebox rennt und seinen Lieblingssong "My Baby Is A Hot Rod' auflegt (The Prison Band, Vampirette Music Künstler, VAMPCD116). Seine Freude während dem Hören des Songs ist so groß, dass er sein Holzbein dem Rhythmus entsprechend am Tischbein zu reiben beginnt und aus dieser Reibung ein Feuer entfacht wird. Das Lokal brennt nieder. Vom Rausch geschwärzt, erhitzt und ausgetrocknet dürstet es unsere verzweifelten Freunde nach einem Glas Milch: "Heiß genauso gut wie Kalt' zu genießen!
'My Baby IS A Hot Rod', ein Song aus der aktuellen CD von The Prison Band '…and the law won' erscheint in dieser TV-Werbespot-Kampagne 'Cravendale Milk' für 18 Monate im britischen Fernsehen. Sendestart ist der 8. August 2009. Erstmals wurde der Spot im UK "LIVING CHANNEL" am 14. April 2009 während der Krimiserie "CSI' vorgestellt.
Lasst uns alle Milch trinken. Mmh. Lecker!!
Cravendale Milk advert wins UTalkMarketing People's Choice
Music Week Sync Survey page 13 CRAVENDALE PURFILTRE MILK
RSS-Feed zu dieser Kategorie (Vampirette Music)

Copyright protected © 2012