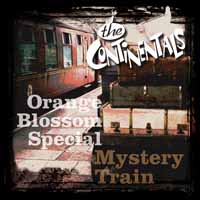 Soeben ist das Digital-Album "Orange Blossom Special" von den Continantals erschienen. Release date Digital: 21.05.2010
Weitere Informationen erhalten Sie demnächst hier.
Der Zug rollt weiter. Mit "Orange Blossom Special" zeigen sich The Continentals wieder in bester Spiellaune. Auf Wunsch des Bayerischen Fernsehens (BR) produzierte die Band diesen traditionellen und wohlbekannten Country Song in ihrem ganz eigenen Cow Punk Style. Den Hörer erwartet eine treibende Mixtur aus Ska, Country Rock und Rock'n'Roll.
"Mystery Train", eine Auskopplung aus dem Album "Frankfurt Special – A tribute to the King" (Vampirette VAMPCD111), wurde von der Fachkritik bereits hoch gelobt und vervollständigt diese Single zum Mythos "Eisenbahn".
The Continentals werden beide Songs in der BR-Sendung "Auf geht's zum Eisenbahnjubiläum" am 28.05.2010 ab 19.45 Uhr im TV präsentieren.

The Continentals, gegründet 1980 in München, gehören zu den deutschen Neo Rockabilly und Rock 'n' Roll Bands der frühen 80er Jahre und geben mit dieser Produktion bereits einen kleinen Ausblick auf ihr neuntes Studioalbum, das im Juli 2010 erscheinen wird.
The Continentals zählen ohne Frage zu den Elite-Bands der deutschen und europäischen Rock'n'Roll Szene. Ihr Weg sollte das Ziel sein – es folgten Clubs, Hallen und Freiluftbühnen in Frankreich, Jugoslawien, Russland, Niederlande, Belgien, Österreich, Schweiz, Italien, Dänemark und Deutschland. Hinzu kamen Radiomitschnitte und diverse Auftritte im deutschen TV (u.a. WWF Club, RTL Musikrevue, Clip Klapp, Auto Auto, Bayern Studio, Große Freizeit, Traumhochzeit …), die Mitwirkung bei Spielfilmen (»Verdammtes Glück« mit Heinz Hoenig, »Keiner hat das Pferd geküsst« mit Wolfgang Fierek, Dolly Dollar, Eddie Arendt) und der nicht enden wollende Spaß am Rock'n'Roll, der bei den Konzerten und auch auf derzeit acht veröffentlichten Alben sowie diversen Samplerauskopplungen der Continentals zu hören ist.
Wenn sich US-Legenden und Top-Stars des Rock'n'Rolls in Europa aufhalten, lassen sie sich auf der Bühne bevorzugt von den "Continentals' begleiten. Die Band erledigt diese Jobs stets mit Intuition und der gebührenden Hochachtung. Daher tourten sie europaweit mehrfach als Begleitband von Wanda Jackson, Frankie Ford, Janis Martin, Buddy Knox und Vince Everett. Auch als Anheizer haben sich die "Continentals' einen Namen gemacht. Sie eröffneten bereits Shows für Carl Perkins, Bill Haley's Comets, Buddy Holly's Crickets, Tony Sheridan, The Rattles, Spider Murphy Gang und viele andere.
Zu finden auf allen guten Onlinestores (Amazon, iTunes, Napster, eMusic etc.). Unterstützen Sie den Künstler und kaufen Sie die Musik. Copy kills music!
The Continentals are:
Mike Roth (Leadvocals, Harp)
Rolf Pröpper (Guitar)
Alessandro Brero (Drums)
Massimiliano Brero (Bass)
Orange Blossom Special:
Recorded at The Continental Studios, 2010-04-12
Mixed and mastered by Frankie Chinasky at Chinasky Music
Mystery Train:
Recorded at The Groundlift Studio, 2007-03-18
Mixed and mastered by Michael Müller-Jin at the Groundlift Studio
LC 13892 Vampirette® Music
© 2010 MCDP International Distribution & Publishing
Titel: Orange Blossom Special
[audio:streaming/VAMPD007/dex311000701.mp3]
Titel: Mystery Train
[audio:streaming/VAMPD007/dex310711102.mp3]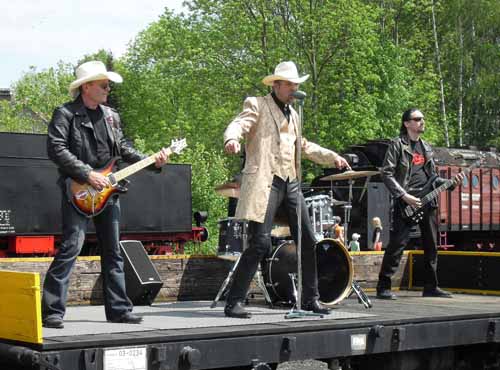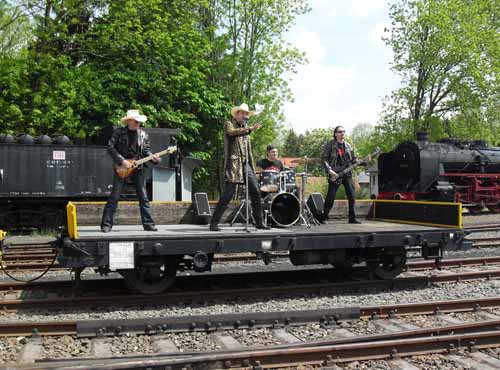 Setfotos zu den Dreharbeiten für den Fernsehauftritt in der BR-Sendung "Auf geht's zum Eisenbahnjubiläum nach Neuenmarkt"


"The train kept a-rolling." With "Orange Blossom Special" The Continentals again show their diversity in performance.
By request of the BR (Bavarian Television) the band melded this traditional and well-known song with their unique cow-punk style. The listener will be subjected to a forceful mixture of Ska, Country Rock and Rock'n'Roll.
"Mystery Train", an outtake of the album "Frankfurt Special – A tribute to the King" (Vampirette VAMPCD111), was already highly recommended by the critics and complements the single with the myth of "railway".
The Continentals will present both songs on German television on the 28th of May 2010.
The Continentals, founded in Munich/Germany in January 1980, belong to the German Neo Rockabilly and Rock'n'Roll bands of the early 80s. With this production the band prefaces their ninth studio album which will be released in July 2010.
Support the artist and buy their music. Find our music at all good online stores like Amazon, iTunes, Napster, eMusic etc.
RSS-Feed zu dieser Kategorie (Vampirette Music)

Copyright protected © 2012