25. Juni 2010 | Abgelegt unter Allgemein, Blues, Filmmusic / Score, Komponisten (Autoren), Labels, New Releases, Publishing, R'n'R / Rockabilly, Recording Infos, Rock, Rock'n'Roll, Roxon, Style, Twitter
Soeben ist das Digital-Album "Back On The Track" von J. Boss erschienen. Release date Digital: 30.07.2010
Weitere Informationen erhalten Sie demnächst hier.
Seit 2010 steht Jürgen Boss als J. Boss wieder auf der Bühne und lässt es richtig krachen. Die Fans mögen seine Musik. Sie ist hart, manchmal melancholisch, nie sentimental und immer grundehrlich. J. Boss verkörpert hartes Urgestein, das die Fahnen einer Musik hochhält, die immer ihre eigene Zeit hat: Rock'n'Roll.
Auszug aus der Venue-Liste:
Huxley's Neue Welt – Berlin, Dröhnland – Nürnberg, Elysée Montmartre – Paris, Atlantis – Basel, Empire – Köln, Capitol – Hannover, Longhorn (LKA) – Stuttgart, Manege – München, Sinkkasten – Frankfurt am Main, Audimax – Marburg, Quartier Latin – Berlin ….

Einer, der weiß wovon er singt: J. Boss tourte schon in den sechziger Jahren mit den Beat-Größen Lords, Rattles und Liverbirds durch deutsche Lande – und bekam dann den Blues! 1964 war er Mitbegründer seiner ersten Band The Stares mit Auftritten in diversen Live-Clubs im süddeutschen Raum. Der Ruf der Bundeswehr sorgte für die Auflösung der Stares. Anfang 1969 spielte Jürgen Boss bei der Band Fellows aus Esslingen und ab 1971 bei Fate aus Kirchheim/Teck mit. 1972 bis 1974 war er Mitglied der Stuttgarter Formation Parchman Farm und gab im Jahre 1973 zusätzlich noch Gastspiele bei Stoned War und Mammut, beide ebenfalls aus Stuttgart.
Die J. Boss Blues Band wurde 1974 ins Leben gerufen. Es folgten in wechselnden Besetzungen bundesweite Auftritte, vorwiegend in honorigen Jazz-Clubs. Auch trat diese Formation immer wieder auf den Bühnen diverser Festivals und Open Airs auf. In diese Zeit fallen unter anderem Auftritte als Begleitband von Errol Dixon, Eddie Taylor & Louis Meyers, Jim Kahr (ex John Lee Hooker Band) und Judy Cheeks. Außerdem stand J. Boss im Duo mit Henry Cray, Pianist der Blues-Legende Sonny Boy Williamson II. auf der Bühne. 1983 erfolgte die Umbenennung in J. Boss Band, da die musikalische Ausrichtung der Band vom Blues weg in Richtung Rock'n'Roll tendierte.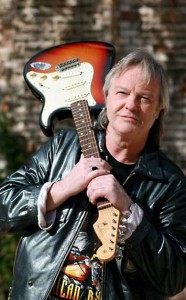 1984 trat sie in Vorprogrammen für Eric Burdon und die Puhdys auf und bestritt eine Deutschland-Tournee mit der britischen Formation Dr. Feelgood. Bis 1986 folgten Gastspiele bei der Band Hoola Man Doola aus Ludwigsburg sowie Konzerte mit Savoy Brown Blues Band, Jack Bruce, den Blues Brothers und eine Deutschlandtournee mit Bo Diddley. 1989 komponierte und spielte J. Boss den Soundtrack zu dem Film "Unter weitem Himmel" von Oluf Zierl. 1993 trat die Band im Vorprogramm von Rory Gallagher, Saxon und Nine Bellow Zero auf. 1994 folgte eine Frankreich-Tournee (Clubs). Bis heute kamen unzählige Club-Gigs, Festivals und Biker-Meetings dazu. U.D.A.
Zu finden auf allen guten Onlinestores (Amazon, iTunes, Napster, eMusic etc.). Unterstützen Sie den Künstler und kaufen Sie die Musik. Copy kills music!
All songs written by J. Boss, except track 1 lyrics by Inconnu Auteur, track 2 lyrics by S. Crane, tracks 6, 8, 14, 17, 19 lyrics by O. Zierl.
All songs published by Edition ROXON Musikverlag.
Executive Producer: J. Boss.
Produced by Cillian D.
Eine Originalaufnahme von ROXON RECORDS
LC 09629 ROXON RECORDS
© 2010 MCDP International Distribution & Publishing
Titel: FOREVER
[audio:streaming/ROXCD754/dex311075401.mp3] weitere Details zeigen
Diskografie
1983 LP "Tokyo Fever", Bellaphon
1985 LP "I Will Survive", Hot Blood Rec.
1985 LP "Ich lebe noch", Zellofon
1990 LP/CD "The Wind In Your Face", ROXON, ROX7590, ROXD750
1994 CD "Happy Harley", ROXON, ROX9401, ROXD752
2001 CD ROB & Friends (Rob Nedora)
2003 CD "It Works Everytime", ROXON, ROX0903, ROXD751
2010 CD "In Memory", ROXON, ROXCD753
2010 CD "Back To The Track", ROXON, ROXCD754
Filmografie
1989 "Unter weitem Himmel"
1993 "Get Your Kicks"
1994 "Pacific Coast"
1995 "Nordlichter"


Since 2010, Jürgen Boss aka J. Boss has returned to the stage and he's havin' a blast. The fans like his music. It is hard, sometimes melancholy, never sentimental and always honest. J. Boss embodies hard primary rock, which cherishes the motifs of a music that always has its own time: Rock'n'Roll.
Extract from the Venue list:
Huxley's Neue Welt – Berlin, Dröhnland – Nuremberg, Elysée Montmartre – Paris, Atlantis – Basel, Empire – Cologne, Capitol – Hanover, Longhorn (LKA) – Stuttgart, Manege – Munich, Gully – Frankfurt am Main, Lecture Hall – Marburg, Quartier Latin – Berlin ….
One who knows what he sings: J. Boss had already toured in the sixties with the celebrated beat bands Lords, Rattles and Liverbirds throughout the German countryside – and then he got the Blues! In 1964, he co-founded his first band, The Stares, performing in various live clubs in southern Germany. The needs of the army was responsible for the liquidation of the Stares. In the early 1969s J. Boss played with the band The Fellows from Esslingen and from 1971 with The Fate from Kirchheim/Teck. From 1972 to 1974 he was a member of the Stuttgart outfit Parchman Farm and in addition he performed in 1973 as a guest with Stoned War and Mammut, both settled also in Stuttgart.
The J. Boss Blues Band was launched in 1974. This was followed by changing line-ups with nationwide appearances, mainly in worthy jazz clubs. This formation appeared again and again on the stages of various festivals and open air festivals. During this time there were slots as the opening band for Errol Dixon, Eddie Taylor & Louis Meyers, Jim Kahr (ex John Lee Hooker Band) and Judy Cheeks. In addition, J. Boss performed on stage in a duo with Henry Cray, pianist for the blues legend Sonny Boy Williamson II. In 1983 the band was renamed as J. Boss Band, because the musical direction of the band moved away from blues and tended more towards rock'n'roll.
In 1984 the band appeared in previous programmes for Eric Burdon and the Puhdys and played a nationwide tour in Germany with the British band Dr. Feelgood. Up to 1986 several guest appearances were made with the band Hoola Man Doola from Ludwigsburg and also concerts were performed with The Savoy Brown Blues Band, Jack Bruce, The Blues Brothers and again across Germany a tour with Bo Diddley. In 1989 J. Boss composed and performed the soundtrack for the movie "Unter weitem Himmel" (Under a wide heaven) by Oluf Zierl.
In 1993 they appeared as the opening band for Rory Gallagher, Saxon and Nine Below Zero. In 1994 a French tour of clubs followed. To this day countless club gigs, festivals and biker meetings are being added. U.D.A.
Support the artist and buy their music. Find our music at all good online stores like Amazon, iTunes, Napster, eMusic etc.
RSS-Feed zu dieser Kategorie (ROXON)

Copyright protected © 2012
2 Kommentare »
2 Kommentare zu "J. Boss – Back On The Track"
Einen Kommentar schreiben