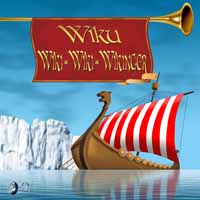 Soeben ist das neue EP-Album "Wiki-Wiki-Wikinger" der Filmkomponisten WIKU (Schweiz) erschienen. Release date: 13.02.2009
Weitere Informationen erhalten Sie
hier
.
Kaum bekannt, komponierte Kurt Herrlinger schon im Jahre 1965 eine Hörspielmusik zu dem 1963 erschienenen und 1965 mit dem Literaturpreis ausgezeichneten Buch "Wickie und die starken Männer". Das Hörspiel wurde vom WDR erstproduziert und mit Marius Müller-Westernhagen als "Wickie" besetzt.

Die Originalmusik ist eine mittelalterlich anmutende Musik mit Fanfaren, Trompeten und spartanischen Klängen. MCDP International gab dem Schweizer Filmproduzenten-Duo WIKU den Auftrag, die Originalkompositionen von Herrlinger der modernen Zeit entsprechend zu arrangieren und fehlende Elemente neu zu komponieren. In der Wahl des Musikgenres waren die Soundtüftler an keine Vorgaben gebunden. Heraus kamen unterschiedliche Mixe mit modernen Dancebeats, die das Original kompositorisch einbeziehen und hervorragend auf das von MCDP International kreiierte Dance-/Technolabelkonzept namens "SUITE 51" passen.
WIKU ist ein Schweizer Musiker-, Komponisten-, Produzenten- und Arrangeurduo von Filmmusik, die hauptsächlich von elektronischen Klängen bestimmt wird. Die Musik ist sehr farbig, dynamisch sowie von vielen exotischen Klangfarben geprägt und klingt dabei atmosphärisch, fantasievoll und entspannend. Auf erstaunliche Weise gelingt es WIKU, Soundfragmente verschiedener Alltagsgeräusche mit viel Geschick zu einem musikalischen Gesamtwerk zu vereinen. Mit innovativer Instrumentation hat WIKU eine eigene und unverwechselbare Musikrichtung geschaffen. Der WIKU-Sound gründet sich auf smoother (World-) Jazz-Basis, gerne mit Streichern orchestriert. Inspiriert durch Enigma, Pat Metheny, Vollenweider oder z.B. Yello entstanden Filmmusik- und TV-Kompositionen von unverwechselbarem Sound.
1965 sendete der Westdeutsche Rundfunk WDR ein zweiteiliges Hörspiel "Wickie und die starken Männer", Spielzeit insgesamt 58:35 Minuten (Teil 1: 30:36 Minuten, Teil 2: 27:59 Minuten).
Die Musik wurde von Kurt Herrlinger komponiert und ist im Verlag MCDP International Publishing, Frankfurt am Main erschienen.
Erstsendedatum Teil 1: 17.10.1965; Teil 2: 24.10.1965
Produced by Willi Gasser & Cillian D.
Cover edit by SUITE 51
SUITE 51 is a Trade Mark and member of the GEMA.
Eine Originalaufnahme von SUITE 51
LC 19084 SUITE 51
© 2008 MCDP International Distribution & Publishing
Titel: Originalversion, Part 1, Kurt Herrlinger 1965
[audio:streaming/S51D500/dex310850007.mp3] [spoiler] Titel: Originalversion, Part 2, Kurt Herrlinger 1965
[audio:streaming/S51D500/dex310850008.mp3]
Interpret: WIKU
Titel: Wiki-Wiki-Wikinger (Victory Mix)
[audio:streaming/S51D500/dex310850001.mp3]
Titel: Wiki-Wiki-Wikinger (Conqueror Mix)
[audio:streaming/S51D500/dex310850002.mp3]
Titel: Wiki-Wiki-Wikinger (Marching Mix 'Version Rouge')
[audio:streaming/S51D500/dex310850003.mp3]
Titel: Wiki-Wiki-Wikinger (Marching Mix 'Version Noir')
[audio:streaming/S51D500/dex310850004.mp3]
Titel: Wiki-Wiki-Wikinger (Transit Mix)
[audio:streaming/S51D500/dex310850005.mp3]
Titel: Wiki-Wiki-Wikinger (Trance Mix)
[audio:streaming/S51D500/dex310850006.mp3] [/spoiler]
WIKU is a Swiss musician, writer, producer and arranger-duo of New Age and Easy Listening music that is dominated by electronically produced sound. The music is colourful, dynamic and soaked in many exotic timbres for an atmospheric, imaginative and relaxed feeling. It is astonishing how WIKU combines the soundscape of everyday life into a complete auditory experience with great artistry. With innovative orchestration WIKU has created a distinctive style of music. The WIKU sound is founded on smooth (World) Jazz-basics underpinning strings. Inspired by Enigma, Pat Metheny, Vollenweider or e.g. Yello movie and TV soundtracks from different genres were born.
Little-known Kurt Herrlinger had by 1965 already composed music for a radio play which debuted in 1963 and was awarded in 1965 with the Literature Prize for his excellent book "Wickie and strong men". The radio play was produced originally by the WDR and broadcast with Marius Mueller-Westernhagen as "Wickie".
The original music is a mediaeval-style music with fanfares, trumpets and spartan sounds. MCDP International gave the Swiss film producer-duo WIKU the contract, to update the arrangements of the original compositions by Herrlinger in keeping with modern times and lack of new elements to compose. In the choice of music genres the sound inventors were not limited by targets. Different mixes with modern dance beats were the result of work lasting for months, which includes the original composition and blends well with the Dance- and technolabel SUITE 51, established by MCDP International.
The Swede RUNER Jonsson was born on 29-06-1916 in Nybro and died on 28-10-2006. At the age of 12 he had already started work as a carpenter. However, his secret longing was dealing with letters, words and written texts. Therefore, he became a journalist at a small newspaper and began to write books. Initially they were designed for adults, but then came his 1963 breakthrough with a children's book "Wickie and strong men" and the 1965 German Youth Literature Prize was awarded. As an author he wrote about 50 books, including "Vick Viking" (Wickie and the strong men) which was the best known.
1965 the WDR Westdeutscher Rundfunk broadcast the radio play "Wickie and strong men" in two parts, playing a total of 58:35 minutes (Part 1: 30:36 minutes, Part 2: 27:59 minutes).
The music was composed by Kurt Herrlinger and is published MCDP International Publishing, Frankfurt am Main.
Premiere Part 1: 17.10.1965; Part 2: 24.10.1965

Copyright protected © 2012