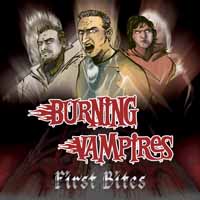 Soeben ist das neue EP-Album "First Bites" der Psychobillyband Burning Vampires (Ungarn/Budapest) als MP3 Download-EP-Album erscheinen. Release date: 21.11.2008
Weitere Informationen erhalten Sie
hier
.
Titel: Mean Mobile
[audio:streaming/VAMPD002/dex310800202.mp3] [spoiler] Titel: Bloody Mary
[audio:streaming/VAMPD002/dex310800205.mp3]
Titel: Little Liar
[audio:streaming/VAMPD002/dex310800204.mp3] [/spoiler]
Die 2004 gegründete ungarische Band BURNING VAMPIRES ist fest in der Budapester Psycho-und Rockabilly Nachtleben-Szene verankert. Sie spielen Gigs zusammen mit Bands wie The Meteors, Klingonz, Phantom Rockers, The Creepshow, Francine, Slapdash, Chilli und Die Barrakudas. Ihre Musik ist im Grunde genommen eine Mischung aus verschiedenen Genres, die ihrem persönlichen Geschmack und ihren Einflüssen entsprechen, wie z.B. der klassische 50er-Jahre-Rockabilly, Swing, Surf, Punk, Rock und Country & Western, jedoch in einen Psychobilly-Stil transformiert.
"FIRST BITES" umfasst 6 selbst geschriebene Songs, deren Studioaufnahmen nun als EP Album veröffentlicht werden. Die grundlegende Geschichte in ihren Liedern beschreibt das Leben eines Vampirs, der von seiner Vampirkönigin ( "Little Liar") versklavt wird. In "Miss Graveyard", einem lockeren Rockabillysong, geht es um ein "sehr nettes" Zombie-Mädchen namens Miss Graveyard, die auf einem Friedhof lebt und … grün ist. "Mean Mobil" ist ein schneller Nitro Hot Rod Rockabillysong. Wenn Sie den hören, wollen Sie nur noch eins: "Gas geben!"
Diese Mucke ist nicht einfach "nur" Psychobilly, das ist der BURNING VAMPIRES Stil!
BURNING VAMPIRES, is a Hungarian based band originally formed in 2004, well familiar with the Budapest Psycho- and Rockabilly nightlife scene, playing gigs along with bands such as The Meteors, Klingonz, Phantom Rockers, The Creepshow, Francine, Slapdash, Chilli and The Barracudas. Their music is basically a blend of several genres deriving from their personal tastes and influences such as the classic 50's rockabilly, swing, surf, as well as punk, rock and country & western, morphed into psychobilly.
"First Bites" includes 6 self-penned studio recordings made into an EP album. The basic story describes the life of a vampire's who is enslaved by his vampire queen ("Little Liar"). "Miss Graveyard", a sleazy rockabilly song, is about a "very nice" zombie girl named Miss Graveyard living in the cemetery and…she is green. "Mean Mobil" is a Nitro Hot Rod speed rockabilly song. If you listen to it you want to do one thing: "Push That Pedal Down To The Floor!"
This is not "only" psychobilly, this is the Burning Vampires style!

Copyright protected © 2012