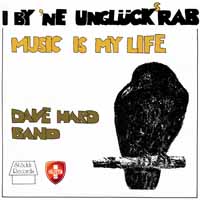 Download-Single "I By 'Ne Unglücksrab" von Dave Hard Band. Release date Digital: 30.03.2012.
Weitere Informationen erhalten Sie demnächst hier.
Die musikalische Erfolgskarriere der Brüder Heinz, Kurt und Willi Gasser begann 1972, als die Schweizer Künstler mit ihrer gegründeten "Dave Hard" Tanz- und Unterhaltungsband mehr als eine Dekade lang auf Welttournee gingen. 1985 löste sich die aus vier Musikern bestehende Band auf. Die Brüder Kurt und Willi verstärkten ihre Produzententätigkeit und gelten als Pioniere des schweizerischen Mundart-Pops der 80er Jahre. So produzierten sie nach "Dave Hard" auf ihrem Label "Stöckli-Records" unter den Projektnamen "Transit", "Kopfhörer" und "Gasser-Clan" mehrere Mundart-Popalben und legten damit zudem ihren neuen Schwerpunkt auf Eigenkompositionen.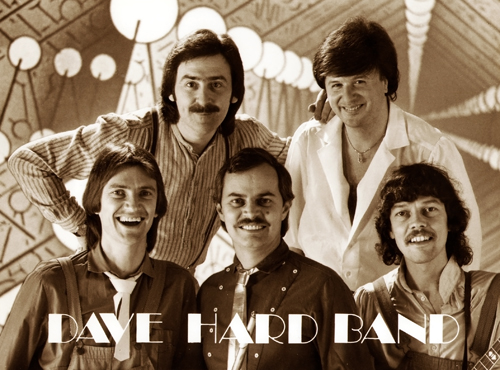 Dave Hard Band

Auf der vorliegenden, 1982 entstandenen Dave Hard-Single sowie dem einzigen Tondokument dieser Band überhaupt befinden sich die Titel "Music is my life" (Mundartversion "Musig isch mys Läbe", 1990 in der Formation mit Gasser-Clan erschienen) und "I by 'ne Unglücksrab". Der Song "Unglücksrab", der als Songbeitrag in der Schweizer Vorentscheidung zum Grand Prix Eurovision 1981 teil nahm, ging zudem als Sieger in der Radiohörer-Fachjury Radio Zürich-Lugano-Genf hervor.
Das Label HELVETIA SOUND hat sich dabei auf Schweizer Produktionen spezialisiert. Die vorliegende Produktion wurde nun digital remastert und endlich, 30 Jahre nach der Erstveröffentlichung sowie zum 40sten Gründungsjubiläum der Dave Hard Band, wiederveröffentlicht.
Heute realisieren die Brüder unter dem Namen WIKU als Musiker-, Komponisten-, Produzenten- und Arrangeur-Duo ihren akustischen Visionen vornehmlich für Filmmusik, die von elektronischen Klängen dominiert werden. Brillant kombiniert werden die musikalischen Gene von alter 70'ies Electronic-Avantgarde, antikem Elektropop und modernem Trancesound in ihrem mysteriösen Studio-Reagenzglas zu Soundtracks zusammengebraut.
Auf erstaunliche Weise gelingt es den Soundtüfflern, Soundfragmente mit viel Geschick zu einem musikalischen Gesamtwerk zu vereinen. Mit innovativer Instrumentation hat WIKU eine eigene und unverwechselbare Musikrichtung geschaffen. Der WIKU-Sound gründet sich auf smoother (World-) Jazz-Basis, gerne mit Streichern orchestriert. Inspiriert durch Enigma, Pat Metheny, Yello und dem ganzen Weltgeschehen entstanden eingängige Filmmusik- und TV-Kompositionen unterschiedlicher Genre. U.D.A.
Zu finden auf allen guten Onlinestores (Amazon, iTunes, Napster, eMusic etc.). Unterstützen Sie den Künstler und kaufen Sie die Musik. Copy kills music!
Support the artist and buy their music. Find our music at all good online stores like Amazon, iTunes, Napster, eMusic etc.
Dave Hard Band are:
Willi Gasser (Lead vocals, Bass, Keyboard)
Kurt Gasser (Gitarren, Keyboards)
Heinz Gasser
John Travers
Recorded at Buchenrainstudio/Stöckli Records, Switzerland
Foto: Mit freundlicher Genehmigung von Dave Hard Band
Arranged, recorded and produced by Kurt + Willi Gasser
Erstveröffentlichung 1982
Premastering by Helvetia Sound at 24 Bit Mastering S.K.B. Soundlab, Germany; Valve Mastering Technology
Published by The Frankfurter Publisher, Edizione
Helvetia Sound is a Trade Mark and member of the GEMA.
Eine Originalaufnahme von Helvetia Sound und Stöckli Records
LC 24464 Helvetia Sound
© 1982, 2012 MCDP International UG (haftungsbeschränkt)
Titel: I By 'Ne Unglücksrab (Single-Mix)
[audio:streaming/HELD300/dex311230001.mp3] [spoiler] Titel: Music Is My Life (Single-Mix)
[audio:streaming/HELD300/dex311230002.mp3] [/spoiler]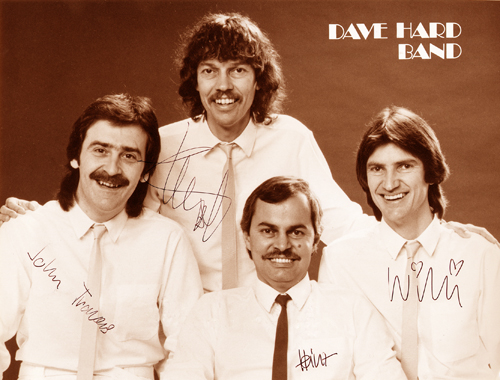 Dave Hard Band

RSS-Feed zur Kategorie Labels (Helvetia Sound)

Copyright protected © 2012