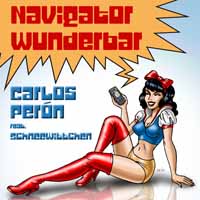 Soeben ist das Digital-Album "Navigator wunderbar" von Carlos Perón feat. Schneewittchen erschienen. Release date Digital: 26.02.2010
Weitere Informationen erhalten Sie demnächst hier.
Zu Hören in der "Doku"-Soap "mieten, kaufen, wohnen", auf VOX Fernsehen.
Sendetermin: 09.04.2010, 18.00 Uhr auf VOX
"mieten, kaufen wohnen" ist der neue TV-Hit im VOX Fernsehen. Ein TV-Produktionsteam begleitet Immobilienmakler, die mit Herzblut dabei sind, ihren Job lieben und den Kunden als König behandeln und alles tun, das geeignete Objekt für ihren Klienten zu finden. Die neue Doku-Soap räumt auf mit den alten Klischees und dem allgemein schlechten Image von Maklern. Mit einem bisherigen Spitzenmarktanteil von fast 12% hat sich die Doku-Soap "mieten, kaufen wohnen" erfolgreich im VOX TV-Programm etabliert. Mittlerweile wird die vierte Staffel produziert.
Carlos Perón tritt als Promi in der Fernsehproduktion "mieten, kaufen, wohnen" auf, der Doku-Soap im deutschen VOX-Fernsehen. Perón versucht bei seinem TV-Einsatz mit Hilfe des Fernsehteams, wie schon zuvor der Sänger Timur Karakus von Schöngeist, ein neues Haus für sich in Köln zu finden.

Die Dreharbeiten sind zu Ende und wir dürfen gespannt sein, für welche Immobilie Carlos Perón sich entschieden hat. Neben dem Bestaunen interessanter Objekte produzierte er mit der charmanten Maklerin auch gleich noch einen Song dazu: NAVIGATOR WUNDERBAR! Der Song lässt beim Hören sogleich Urlaubsstimmung aufkommen, erinnert er doch an Mallorca und den Ballermann. Und das nicht ganz ohne Absicht. Jedoch gibt es einen Unterschied, der nicht unerwähnt bleiben soll, denn zu den luxuriösen Immobilien der Fernsehserie kann nicht jeder x-beliebige Sound passen. So wurde NAVIGATOR WUNDERBAR in einem "gehobenen Ballermann-Stil mit Niveau" produziert und wird den Wendlers der Nation das Fürchten lehren. NAVIGATOR WUNDERBAR ist obendrein ein Ohrwurm mit Killerrefrain, der mit einer heftigen Prise yelloesker coolness gewürzt wurde.
Die tiefe Navigatorstimme wird natürlich von Carlos Perón höchstpersönlich gesprochen. Deren Sprachaufnahmen auf Tonband entstanden, wie kann es sein, auf der Fahrt mit der Maklerin zum nächsten Besichtigungstermin. Damit hat Perón mal wieder ein neues Genre erfunden, denn der Extended Mix ist Popschlager in Verbindung mit avantgardistischer Elektronik.
Für seine Maklerin, die in einem Anschlusstermin der nächsten Folge die richtige Sauna für einen Klienten finden sollte, produzierte Carlos Perón den Song "Sauna ist cool, Madame".
"Wär häts erfundä? D'Schwyzer natürlich!" Und wo wird's gesendet? Natürlich auf VOX Fernsehen.
CARLOS PERÓN war Gründer der weltweit bekannten Kult-Band YELLO und Initiator des weltweit ersten Videoclips "The evening's young" aus dem zweiten Album "Claro que si" sowie fünf Jahre aktives Mitglied. Nach dem dritten YELLO-Album "You Gotta Say Yes to Another Excess" verlässt CARLOS PERÓN die Gruppe im Jahr 1984, um zahlreiche gewagte Solo-Projekte anzugehen. Viele Musikkritiker sind sich einig: Mit Beendigung seiner aktiven Phase verlor YELLO seinen rauen Schliff.
Im selben Jahr komponiert CARLOS PERÓN den Score für den Film "Die Schwarze Spinne" (Der Komtur). Mit "Wolfsheim" und dem Titel "The Sparrows and the Nightingales" erobert PERÓN mit diesem Newcomer-Act zu einem späteren Zeitpunkt die Charts. Mit seinen neuen Alben EL NUEVO (soeben erschienen) und dem im Herbst 2009 folgenden Soloalbum PERÃ'NISMO PARA TI!, das neue Versionen der Yello-Hits "BOSTICH", "THE EVENING'S YOUNG" und "YOU GOTTA SAY YES TO ANOTHER EXCESS" sowie "Der Komtur" enthalten wird, darf man getrost behaupten, dass der neue, moderne PERÓN -Sound der beste ist, den es je seit Yello zu hören gab.
Zu finden auf allen guten Onlinestores (Amazon, iTunes, Napster, eMusic etc.). Unterstützen Sie den Künstler und kaufen Sie die Musik. Copy kills music!
LC 19088 The Frankfurter Label
© 2010 MCDP International Distribution & Publishing
Titel: Navigator wunderbar
[audio:streaming/TFLD802/dex311080201.mp3] [spoiler] Titel: Navigator wunderbar (Lange Fahrt Mix)
[audio:streaming/TFLD802/dex311080202.mp3] [/spoiler]
RSS-Feed zu dieser Kategorie (The Frankfurter Label)

Copyright protected © 2012