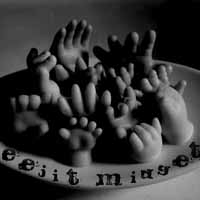 … Once upon a time, far beyond the glass mountains there was a midget.
… And top it all he was eejit too.
… With all of these handicaps he could not do anything else but form a band.
… So he collected all that is intangible and his metamorphosis started.
… Chosen souls gathered together from around the world to complete the Eejit Midget phenomenon…
The whole thing started in 1996 when Istvan & Attila went to the same high school where they played music together for a while, but then they went their separate ways and they had to wait until 2007 to be in the same band again, when Istvan, who had moved to Ireland the year before, asked Attila and two other friends Arian & Kristof if they wanted to form a band and all of 'em said "yes" without having any knowledge of Istvan's ideas.

Then because of the distances between Ireland, Belgium and Hungary, where they are based these days, the songs started to flow through the cruel world of internet and got put into shape with 'cyber-rehearsals'. From then on they started to call themselves "Eejit Midget".
After a couple of months the friends decided to fly over to Ireland to have some fun where they shot a video for their first song "Rough" and also wrote another song together called "Ennistymon".
By October 2008 two female friends Zita & Agi joined the band and the unusual journey continued with rehearsal sessions 'in real time' in Hungary where they played "Oh My" for the first time but not the last. Before Istvan went back to Ireland, they decided to go on with this cyber rock thing and made a commitment to record their songs in the near future.
[flashvideo file=videos/FOXD701_02_eejitmidget_rough.flv /]
What a miracle, it happened in March 2009 in Ireland. They recorded 4 songs for their debut EP called "Awful Lot". Besides songs "Awful Lot", "Rough", "Folklower" and "Oh My" there was an extra track "Soundtrack of a Whacking Round Speck" which had been recorded in their studio earlier.
After the recordings they were booked for some gigs in Hungary. All they could and would say about the gigs was: "It was great". Now they are preparing themselves for an Autumn tour of Europe and the recording of their following new album.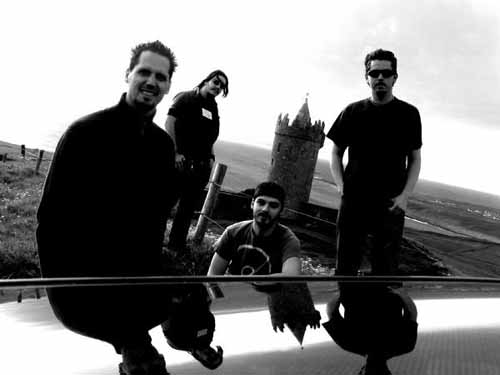 RSS-Feed zu dieser Kategorie (Foxrocks)

Copyright protected © 2012