The main reason for the birth of the company was because I was a DJ at a rock n roll club and every week I would book a new band to give them a chance on the club scene. People asked me where they could buy records from these bands and the answer was, 'nowhere', so we decided to start Fury Records and make some sampler albums of these bands. It was 1986 when we pressed our very first LP called 'She's Just Rockin'. We went on to make many samplers and eventually solo albums by bands like The Playboys, Hot Rod Gang, Niteshift Trio and Deuces Wild.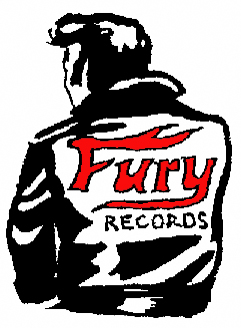 Here is an interesting story from one of those LP's that we released in those early days! We released a ten inch album of Dave Phillips & The Hot Rod Gang. The A side was at 33rpm but the B side we made a 78rpm which was crazy at the time. This was 1995 and music magazines said 'Crazy Record Company releases 78rpm record, 50 years out of date! Many people wanting to play this side are now looking for old record players in junk shops! But we recieved a lot of publicity from this which helped us for the future!
Some of those old vinyl releases are collectors items now and are fetching big money. We pressed many vinyl LP's in different colours to make record collecting more interesting. The Klingonz LP's were pressed in Pink, Blue, Green, Brown and 'Yes' even Black! One of our EP's by Ray Condo was pressed in transparent vinyl – how I miss those vinyl days but you have to go with the times and everything now is CD and downloads!
We were lucky to sign up Hot Boogie Chillun and release a series of vinyl releases which are today on 2 CD's. Other bands on the label which have been good for us are Screaming Lord Sutch, The Rapiers, Demented Are Go, Red Hot & Blue, The Klingonz, Ray Condo, Mad Sin and The Razorbacks!
It has been 22 years now since we stared and we have many release's. With over 60 CD's on catalogue and hundreds of tracks on old vinyl releases that have yet to make it to CD. We are still very busy compiling new samplers and we are always looking for new bands with the right material. Keep rocking!
Dell Richardson (Owner) Fury Records

Copyright protected © 2012