Leon liest Texte in Deutsch (er lernt noch, ist aber auf einem guten Weg). AI Voice von MCDP International.

Download-Album "Der Weihnachtsabend (Spoken Word Performance), Peter Ehrlich liest als Charles Dickens" von Carlos Perón. Release date digital: 01.12.2023
Weitere Informationen erhalten Sie hier.
CONTENT: Der Weihnachtsabend Part 1 (Spoken Word Performance), Der Weihnachtsabend Part 2 (Spoken Word Performance)
Ich habe mich bemüht in diesem geisterhaften kleinen Buch, den Geist einer Idee zu erwecken, der meine Leser weder mit sich selbst, noch miteinander, noch mit der Jahreszeit, noch mit mir verleiden soll. Möge sie angenehm in ihren Häusern spuken und niemand wünschen, sie zu vertreiben. (aus Charles Dickens' Novelle A Christmas Carol 1843).
Charles Dickens' Novelle A Christmas Carol von 1843 ist eine der beliebtesten Weihnachtsgeschichten aller Zeiten und ein Meilenstein in der Literaturgeschichte. Im angloamerikanischen Raum zählt sie zu der am meistverbreiteten Weihnachtsgeschichte. Dieses zeitlose Werk wurde zu einem wichtigen Teil des kulturellen Erbes und hat sich als ein integraler Bestandteil der Weihnachtsliteratur etabliert.

Charles Dickens (1812 – 1879), ein gefeierter Schriftsteller seiner Zeit, war selbst Zeuge von sozialen Ungerechtigkeiten und Armut im viktorianischen London. Seine persönlichen Erfahrungen in einer Arbeiterfamilie und sein Mitgefühl für die Bedürftigen inspirierten ihn zu dieser bemerkenswerten Geschichte. Dickens wollte damit die Aufmerksamkeit auf die soziale Kluft zwischen den Klassen lenken und eine Botschaft der Nächstenliebe und Großzügigkeit verbreiten. Der Erzähler der Geschichte ist Dickens selbst, der den Leser durch die verschneiten Straßen Londons des 19. Jahrhunderts führt und die Ereignisse um den geizigen Ebenezer Scrooge schildert. Seine lebhafte und mitfühlende Erzählweise schafft eine unvergleichliche Atmosphäre.
Bereits bei seiner Veröffentlichung erlangte A Christmas Carol eine außergewöhnliche Popularität. Die Menschen erkannten in der Geschichte eine dringend benötigte Mahnung zur Menschlichkeit in einer rauen und unerbittlichen Welt. Sie erkannten die Bedeutung von Mitgefühl und Großzügigkeit in der festlichen Jahreszeit. Die Botschaft, dass es nie zu spät ist, sich zu ändern und Mitgefühl zu zeigen, sprach die Herzen vieler an. Was die Novelle besonders bekannt und beliebt machte, waren die öffentlichen Lesungen von Dickens selbst. Der Autor trat auf Bühnen und in Versammlungsräumen auf, um sein Werk vorzutragen. Die Lesungen waren ein durchschlagender Erfolg, die Menschen strömten in Scharen zu diesen Veranstaltungen, um die Geschichte aus dem Mund ihres Schöpfers zu hören. Dickens' lebendige Darbietung brachte die Charaktere und Szenen zum Leben und verstärkte die emotionale Wirkung der Erzählung.
Die Entstehung dieser Novelle, die inspirierende Botschaft, der begabte Autor und die mitreißenden Lesungen von Charles Dickens haben A Christmas Carol zu einem zeitlosen Klassiker gemacht, der jedes Jahr aufs Neue Generationen von Menschen berührt und sie daran erinnert, die Werte der Menschlichkeit und Nächstenliebe zu leben.
Schauspieler und Filmregisseur Peter Ehrlich (1933 – 2015) wirkte in unzähligen Hörspielproduktionen mit. Zu den Glanzstücken an Rezitationstexten von Peter Ehrlich zählt zweifelsohne Dickens' Weihnachtsgeschichte. Ehrlich liest nicht nur den Text großer englischer Dichtung, er wird zu Charles Dickens, wie er zu Lebzeiten vor sein Publikum trat. Virtuos schlüpft der bekannte Charakterdarsteller (Wer einmal aus dem Blechnapf frisst, Emil und die Detektive, Der Kommissar, Derrick, Tatort, Die Schwarze Spinne) in die Rolle des Dichters und erweckt mit faszinierender Wandlungsfähigkeit die zwanzig Figuren der Geschichte zum Leben.
Carlos Perón, Gründer der Kultband YELLO ist bekannt für seine meisterhaften musikalischen Umsetzungen von Literaturvorlagen. Schon 1983 produzierte er den Song Der Komtur, der auf der Novelle von Jeremias Gotthelf basiert, welcher 1984 in England zum Kulthit wurde und erst 1992 durch einen Remix von Thorsten Fenslau in Deutschland zum Szenehit avancierte.
Die Produktion entstand als 5.1- & Stereomitschnitt einer szenischen Lesung aus dem Theater am Hechtplatz Zürich am 22. Dezember 2001 unter der Leitung von Carlos Perón. Für die vorliegende Fassung hat Carlos Perón Aufnahmequalität und Mischung überarbeitet. Neben der vorliegenden Spoken Word Performance ist eine Musically Supported Spoken Word Performance-Fassung entstanden, die passend zur Weihnachtsgeschichte einen Electronic-Ambient-Sound enthält.
Zu finden bei allen guten Onlinestores. Copy kills music!
U.D.A. 2023
All songs written by Carlos Perón, Novel by Charles Dickens
Produced, recorded & mastered by Carlos Perón
Newly revised and mastered in 2023 by Carlos Perón.
WORTSPIEL ist ein Audiobook Label von MCDP International.
WORTSPIEL is a Trade Mark and member of the GEMA.
Eine Originalaufnahme von WORTSPIEL
LC 00100984 WORTSPIEL
© 2023 MCDP International UG (haftungsbeschränkt)
Der Weihnachtsabend (Musically Supported Spoken Word Performance), Peter Ehrlich liest als Charles Dickens (2001, 2023)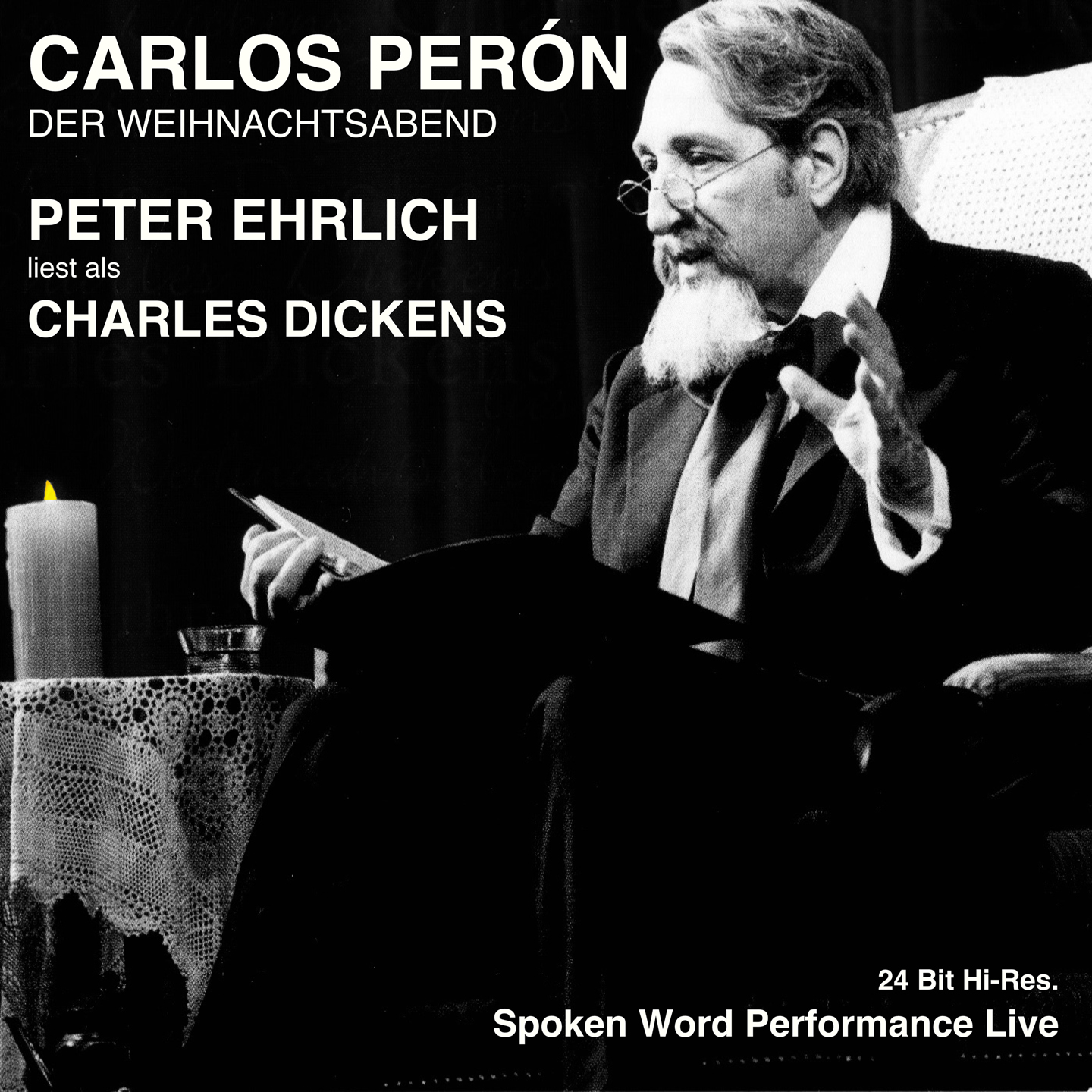 I have endeavored in this Ghostly little book, to raise the Ghost of an Idea, which shall not put my readers out of humor with themselves, with each other, with the season, or with me. May it haunt their houses pleasantly, and no one wish to lay it. (Taken from Charles Dickens' novel A Christmas Carol 1843).
Charles Dickens' 1843 novella A Christmas Carol is one of the most popular Christmas stories of all time and a milestone in literary history. In the Anglo-American world, it is one of the most widely read Christmas stories. This timeless work has become an important part of our cultural heritage and has established itself as an integral part of Christmas literature.
Charles Dickens (1812 – 1879), a celebrated writer of his time, was himself a witness to social injustice and poverty in Victorian London. His personal experiences in a working-class family and his compassion for the needy inspired him to write this remarkable story. Dickens wanted it to draw attention to the social divide between the classes and spread a message of charity and generosity. The narrator of the story is Dickens himself, who takes the reader through the snowy streets of 19th century London, describing the events surrounding the miserly Ebenezer Scrooge. His vivid and compassionate narration creates an incomparable atmosphere.
As soon as it was published, A Christmas Carol achieved extraordinary popularity. People recognised in the story a much-needed reminder of humanity in a harsh and unforgiving world. They recognised the importance of compassion and generosity during the festive season. The message that it is never too late to change and show compassion spoke to the hearts of many. What made the novella particularly well-known and popular were the public readings by Dickens himself. The author appeared on stages and in meeting halls to recite his work. The readings were a resounding success, with people flocking to these events to hear the story from the mouth of its creator. Dickens' vivid delivery brought the characters and scenes to life and enhanced the emotional impact of the narrative.
The genesis of this novella, the inspiring message, the gifted author and the stirring readings by Charles Dickens have made A Christmas Carol a timeless classic that touches generations of people every year and reminds them to live the values of humanity and charity.
Actor and film director Peter Ehrlich (1933 – 2015) appeared in countless radio play productions. One of the highlights of Peter Ehrlich's recitations is undoubtedly Dickens' Christmas Story. Ehrlich not only reads the text of great English poetry; he becomes Charles Dickens as he appeared before his audience during his lifetime. The well-known character actor (Wer einmal aus dem Blechnapf frisst, Emil und die Detektive, Der Kommissar, Derrick, Tatort, Die Schwarze Spinne) slips virtuously into the role of the poet and brings the twenty characters of the story to life with fascinating versatility.
Carlos Perón, founder of the cult band YELLO, is known for his masterful musical adaptations of literary texts. As early as 1983, he produced the song Der Komtur, based on the novella by Jeremias Gotthelf, which became a cult hit in England in 1984 and only advanced to a scene hit in Germany in 1992 with a remix by Thorsten Fenslau.
The production was created as a 5.1 & stereo recording of a staged reading from the Theater am Hechtplatz Zurich on 22 December 2001 under the direction of Carlos Perón. For the present version, Carlos Perón has revised the recording quality and mixing. In addition to the present spoken word performance, a musically supported spoken word performance version was created, which contains an electronic ambient sound to match the Christmas story.
Can be downloaded from all good online stores. Copy kills music!
U.D.A. 2023
RSS-Feed zu dieser Kategorie (Wortspiel) | Livemarks (RSS für Firefox)