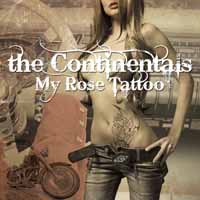 CD+Download-Album "My Rose Tattoo" von The Continentals. Release date CD: 23.11.2012 release date Digital: 23.11.2012.
Weitere Informationen erhalten Sie demnächst hier.
Nummer 10: Das aufregendste Continentals-Album aller Zeiten!
Das zehnte Album der renommierten Münchner Rocker bietet wieder ein heißes Crossover-Gebräu aus Rock'n'Roll, Rockabilly, Blues, Surf und Country Rock. Ganz im Stil amerikanischer Roadmovies und Trash-Filme. Neben dem Titelsong My Rose Tattoo finden sich auf dieser CD mit Hot Wheels, Cathouse Blues, Wild At Heart (Down In Mexico), Hurt By You und The Lions fünf weitere, brandneue
Kompositionen der Continentals.
Die zusätzliche Songauswahl liest sich wie ein Who Is Who der Musikgeschichte. Hier trifft man auf Deep Purple, Cheap Trick und U2 genauso, wie auf die Bangles, Depeche Mode oder Joy Division. Entstaubte Klassiker aus den 50ies und 60ies runden "den bunten Strauß beliebter Melodien" ab.
Wie passt das alles zusammen?
Gar nicht – außer es wird von den Continentals gespielt!
Und was passiert eigentlich, wenn das Raumschiff Orion auf die kauzige Miss Marple trifft? Wie fühlt es sich an, wenn du dich beim Lapdance nass machst? Haben Biker wirklich nur Chrom und PS im Kopf? Wurde der Rock'n'Roll in Wahrheit nicht von Tutanchamuns Palastorchester erfunden? Scheint hinter Rosie's Cantina in Tijuana auch die Sonne? Kann ein Tattoo deine Seele verbrennen? Ist Liebe doch nur ein Wort? The Continentals geben schlüssige Antworten auf diese und viele andere Fragen.
Wie auch schon die 2011 veröffentlichte CD Best Rockin' Christmas Of Them All (FOXROCKS, FOXCD705), wurde das neue Werk, mit Unterbrechungen, von April 2010 bis September 2012 in den bandeigenen Rose Tattoo Recording Studios in München aufgenommen. Mit dem "Tonmeischter" und Wahl-Münchner Frankie Chinasky, der für Mix, Mastering und kreative Inputs sorgte, ging die Band auch für sie ganz neue Wege in Produktion und Machart. Im Ergebnis: Herz, Härte und jede Menge Rock'n'Roll Spirit.
Aus Tradition: Born To Rock
The Continentals zählen zu den deutschen Neo-Rockabilly-Bands und Rock'n'Roll-Revival-Bands der frühen Stunde. Seit 1980 ist die Münchner Elite-Combo um ihren charismatischen Frontmann Mike Roth ein gern gesehener Gast auf nationalen und internationalen Bühnen. Hinzu kamen Studioaufnahmen, Radiomitschnitte und Auftritte im deutschen TV sowie die Mitwirkung bei Kino- und Fernsehfilmen. Der Gewinn von Musikpreisen wie dem Buddy Holly Song Contest oder den Country Music Awards (CMA) mit eingeschlossen.
The Continentals tourten mehrfach europaweit als Begleitband für die US-Stars Wanda Jackson, Frankie Ford, Buddy Knox, Janis Martin und Vince Everett. Sie spielten als Anheizer für Carl Perkins, Bill Haley's Comets, Buddy Holly's Crickets, die Spider Murphy Gang, The Rattles und Tony Sheridan. Sie rockten auf internationalen Festivals mit Zucchero, den Leningrad Cowboys sowie mit zahlreichen Größen der britischen Rock'n'Roll-Szene wie Crazy Cavan & The Rhythm Rockers, The Jets, The Flying Saucers u.v.a.
" We proudly present an evil world of heavy bikes and horny chicas.
A wicked game of unreturned love and glowing romance.
A magical cosmos of icecold beer and burning licks.
A fireworks of stunning beats and great entertainment.
Let's get the party started with the fabulous, the amazing, the fantastic and only Continentals …"
Zu finden auf allen guten Onlinestores (Amazon, iTunes, Napster, eMusic etc.), incl. Digital Booklet. Unterstützen Sie den Künstler und kaufen Sie die Musik. Copy kills music!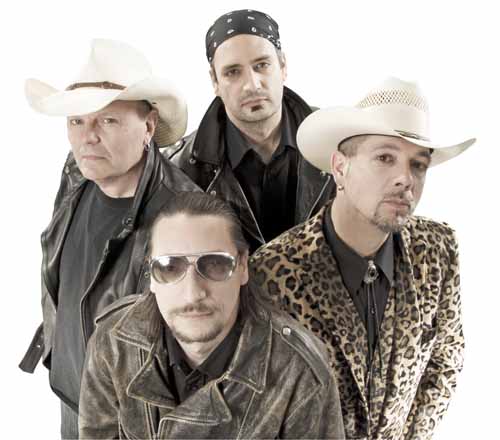 THE CONTINENTALS are:
Mike Roth (lead vocals, backing vocals, ukuleles)
Rolf Pröpper (guitars, steel guitars, mandolins, backing vocals)
Alessandro Brero (drums)
Massimiliano Brero (bass)
PRODUCED AND RECORDED by Mike Roth at the Rose Tattoo Recording Studios, Munich
MIXED & MASTERED by Frankie Chinasky at the House of Pain, Munich
My Rose Tattoo, Hot Wheels, Cathouse Blues, Wild At Heart (Down In Mexico), Hurt By You und The Lions published by Edition Vampirette Publishing.
Foxrocks is a Trade Mark and member of the GEMA.
LC 18912 Foxrocks
© 2013 MCDP International UG (haftungsbeschränkt)
Titel: Cathouse Blues
[audio:streaming/FOXCD708/dex311270803.mp3] [spoiler] Titel: Hot Wheels
[audio:streaming/FOXCD708/dex311270801.mp3]
Titel: Hurt By You
[audio:streaming/FOXCD708/dex311270805.mp3]
Titel: My Rose Tattoo
[audio:streaming/FOXCD708/dex311270808.mp3]
Titel: Personal Jesus
[audio:streaming/FOXCD708/dex311270812.mp3]
Titel: The Lions
[audio:streaming/FOXCD708/dex311270814.mp3]
Titel: Beyond The Sea
[audio:streaming/FOXCD708/dex311270815.mp3] [/spoiler]
RSS-Feed zu dieser Kategorie (Foxrocks)

Copyright protected © 2013