18. März 2011 | Abgelegt unter Alternative, Foxrocks, Hard Rock, Heavy Metal, Labels, Musikbote, New Releases, Presse, Recording Infos, Rock, Style, Video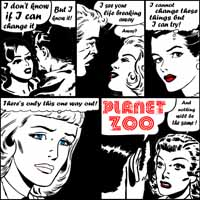 Download EP-Album "Planet Zoo" von Planet Zoo. Release date Digital: 10.06.2011
Weitere Informationen erhalten Sie demnächst hier.
Aus der Asche der Bands "Diversion" und "Stiffkick" wurde im Jahr 2009 die Band "Planet Zoo". Mehr als 10 Jahre tourten Björn & Butchy mit Ihrer alten Band "Diversion" durchs Land, dabei haben sich die Wege von Christian, Baris und Alex (ex "Stiffkick") gekreuzt. Nachdem beide Bands ihren Abschied feierten, beschloss man gemeinsam etwas Neues aufzubauen. Mehr als ein Jahr nach Gründung der Band ist es nun endlich soweit. "Planet Zoo" präsentieren ihre Debüt EP zusammen mit digitalem Booklet und einem professionell produzierten Musicvideoclip des Songs "Falling Deeper". Der Clip wartet mit einer witzigen und einfallsreichen Story auf.


Das Rezept ist denkbar einfach: Man nehme Ohrwurmmelodien sowie mehrstimmigen, harmonischen Gesang und mischt das Ganze mit kraftvollen Shouts und voluminösen Gitarrenriffs. Fertig ist der Sound von "Planet Zoo". Die Band erinnert mit ihrem Stil an "Rise Against" sowie "Story Of The Year".
Die markante Stimme von Alexander Schmid zieht den Hörer sofort in seinen Bann. Die genialen Melodien gehen nach den ersten paar Minuten direkt über das Ohr ins Hirn. Die Refrains bleiben sofort hängen. "I would die for you tonight, when I feel my heart is gone …" heißt es in einem der Songs und es stimmt mit dem Motto der Band überein: Mit Herzblut dabei sein, mit Vollgas voraus und machen worauf man Lust hat – das hört man den Songs an!
Mit ihren Texten wollen die fünf Schwaben einiges erzählen. So geht es z.B. in dem Song "Raise Your Head" um einen jungen Mann, der an die "dunkle Seite" glaubt, um dadurch wieder Energie zu tanken und auf den richtigen Weg zu kommen.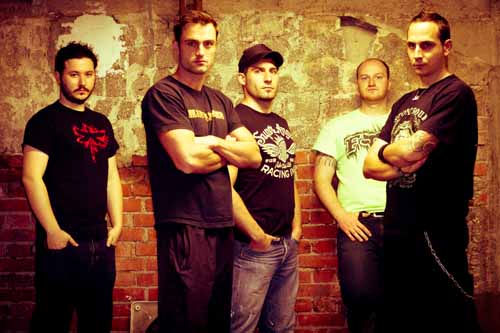 Die Jungs rocken auf der Bühne sofort los. Ohne jegliche Vorurteile und Anpassungen an musikalische Erwartungen der momentanen Rock- & Alternativszene bieten sie eine Mischung aus Rock und Metal, zusammen mit einem fettem Gitarrenbrett, aggressiv harten Shouts und einem Gesang mit viel Melodie vom Feinsten.
Live kann man einiges erwarten, denn nach nur einem Jahr kann die Band bereits auf viele Auftritte mit ausgezeichneten Pressereaktionen zurückblicken. Die Band ist Live eine absolute Wucht. Headbanging, Moshen und Brüllen bis die Stimmbänder versagen. Shouter Björn macht es vor und die Fans machen begeistert mit. Wir werden noch viel von "Planet Zoo" hören, sofern die Stimmbänder von Björn die Live-Auftritte überleben werden…
Produziert und aufgenommen wurde die EP von keinem Geringeren als Thimo Strobel (Maraton Studio, Bad Saulgau). Strobel produzierte u.a. bereits mit Erfolg Bands wie "Itchy Poopzkidz" oder "Benzin".
U.D.A.
Zu finden auf allen guten Onlinestores (Amazon, iTunes, Napster, eMusic etc.). Unterstützen Sie den Künstler und kaufen Sie die Musik. Copy kills music!
All songs written by Planet Zoo.
All songs published by Edition ROXON Musikverlag, Frankfurt am Main / Heart-Rock-Music-Edition, Heiningen.
All rights worldwide administered by Edition ROXON Musikverlag, Frankfurt am Main.
Recorded & mixed at Maraton Studios, Bad Saulgau
Produced, mixed and engineered by Thimo Strobel
Videoclip "Falling Deeper" produced by Planet Zoo, Co-Produced by Heart-Rock-Music-Edition & Edition Roxon Musikverlag.
Eine Originalaufnahme von Foxrocks
LC 18912 Foxrocks
© 2011 MCDP International Distribution & Publishing
Titel: Falling Deeper
[audio:streaming/FOXD703/dex311170302.mp3] weitere Details zeigen
Support the artist and buy their music. Find our music at all good online stores like Amazon, iTunes, Napster, eMusic etc.
RSS-Feed zu dieser Kategorie (Foxrocks)

Copyright protected © 2012
1 Kommentar »
Ein Kommentar zu "Bis die Stimmbänder versagen: PLANET ZOO präsentiert ihre Debüt EP"
Einen Kommentar schreiben