22. März 2011 | Abgelegt unter Alternative, Dark Wave, EBM, Gothic, Industrial, Labels, Musikbote, New Releases, Painkiller, Recording Infos, Style, Techno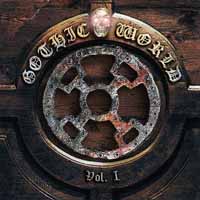 Download-Album "Gothic World 1". Release date Digital: 03.06.2011.
Weitere Informationen erhalten Sie demnächst hier.
THE GOTHICWORLD presents: Gothic World Volume 1, der Sampler zum Festival!
Schwarz ist die Farbe der Freude. Passend zum ersten Gothicworld-Festival im Sommer 2000 auf der Wasserburg zu Geretzhoven bei Rommerskirchen (zwischen Köln und Neuss) gab es den ersten Gothicworld-Sampler, auf dem nahezu alle Bands vertreten sind, die auch auf dem Grufti-Festival zu sehen und zu hören waren. Liebe, Zorn, Wut und Hass bringen die Sänger in ihren Texten zum Ausdruck. So werden dem Hörer neben namhaften Acts, wie zum Beispiel Garden of Delight ("Agony"), Whispers in the Shadow ("A Taste of Decay"), The House of Usher ("Äktinoktium" – mit der Version "Equinoxe" erstmals in Deutsch gesungen!), The Breath of Live ("Tower"), The Crack of Doom ("The Cold Kiss" from "To Megatherion"), Irrlicht "Seufzer der Ewigkeit" (mit einer Special GW-Edit Version) oder Gallery ("Bong") auch Interpreten u.a. wie Le Cri Du Mort, Elevation Sea Level, Drown oder ASP präsentiert. Wer die Konzerte erlebt hat, wird sich beim Hören dieser Compilation gerne daran zurückerinnern.

Der Sampler entstand in Kooperation mit HIMMELPFORTEN / 10.000 Zippers und dem Internetmagazin Gothic World sowie unter der Regie von Mastermind Carlos Perón (Ex-Yello, Fine Young Cannibales, Wolfsheim, The Crack of Doom). Das Frankfurter Dark Wave- und Electrolabel "Painkiller N4" wiederveröffentlicht nun in Zusammenarbeit mit Kultstar Carlos Perón diese limitierte CD im digitalen Kanal. Soundmeister Perón höchstpersönlich unterzog dafür den Sound der 19 Songs, die zwischenzeitlich zu Hits wurden, einer modernen und aufwändigen Masteringkur in seinen Hightech-Höhlen. Im Zuge der Neuaufbereitung der Produktion entstand endlich auch der lang erwartete zweite Teil mit 15 neuen Titeln unter dem Motto "Kinski meets Riefenstahl", mit musikalischen Ausflügen hin zu EBM Ambient, Dark Wave, Electro und Techno. Veröffentlicht wird der Sampler von "Painkiller N4".
Carlos Perón war Gründer der weltweit bekannten Kult-Band YELLO und Initiator des weltweit ersten Videoclips "The evening's young" aus dem zweiten Album "Claro que si" sowie fünf Jahre aktives Mitglied. Nach dem dritten YELLO-Album "You Gotta Say Yes to Another Excess" verlässt CARLOS PERÓN die Gruppe im Jahr 1984, um zahlreiche gewagte Solo-Projekte anzugehen. Viele Musikkritiker sind sich einig: Mit Beendigung seiner aktiven Phase verlor YELLO seinen rauen Schliff.
Im selben Jahr komponiert CARLOS PERÓN den Score für den Film "Die Schwarze Spinne" (Der Komtur). Mit "Wolfsfheim" und dem Titel "The Sparrows and the Nightingales" erobert PERÓN mit diesem Newcomer-Act zu einem späteren Zeitpunkt die Charts.
Mit seinem jüngsten Soloalbum PERÒNISMO PARA TI!, präsentiert Perón ein äußerst brisantes und ebenso brillantes Album, bei dem sich alles um Revolution und Tanzwut dreht. Hier weht wieder dieser raue perónistische Schliff. Viele Musikkritiker sind sich einig: Mit Beendigung seiner aktiven Phase verlor YELLO diesen rauen Schliff.
U.D.A.
Zu finden auf allen guten Onlinestores (Amazon, iTunes, Napster, eMusic etc.). Unterstützen Sie den Künstler und kaufen Sie die Musik. Copy kills music!
LC 24380 PAINKILLER N4
© 2000, 2011 MCDP International Distribution & Publishing
Titel: Spiritual Cramp – Centuries
[audio:streaming/PKD600/dex311060015.mp3]
weitere Details zeigen
Find the music in all good online stores like Amazon, iTunes, Napster, eMusic etc. Support the artist and buy their music. Copy kills music!
RSS-Feed zu dieser Kategorie (Painkiller N4)

Copyright protected © 2012
Keine Kommentare »
Einen Kommentar schreiben