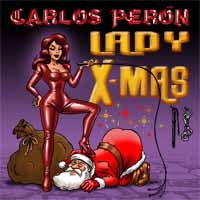 Soeben ist das Mini-Album "Lady X-Mas" von Carlos Perón erschienen. Release date Digital: 13.11.2009. Weitere Informationen erhalten Sie demnächst hier.
CARLOS PERÓN und Weihnachten – da brennt die Hütte wie im alten Rom – PERÓN verarbeitet klassische Weihnachtslieder zu modernen Mitsingschlagern im Technogewand – doch hier schwingt diesmal nicht der Nikolausi die Peitsche, sondern unsere heißgeliebte Domina Lady X-Mas. Eine wahre Bereicherung fürs Fest der Feste. "Uhh yeah….he, he, he….kann denn Hiebe Sünde sein"?

Lady-X-Mas ist natürlich eine Anspielung auf Perón's Fetisch-Bestseller-Produktionen "Les Salles", die mit dem Verkaufshit "La salle blanche" ihren vorläufigen Höhepunkt gefunden haben. Diese EP gehört unter jeden Gabentisch und kann z.B. mit Handschellen und Peitsche kombiniert werden.
CARLOS PERÓN war Gründer der weltweit bekannten Kult-Band YELLO und Initiator des weltweit ersten Videoclips "The evening's young" aus dem zweiten Album "Claro que si" sowie fünf Jahre aktives Mitglied. Nach dem dritten YELLO-Album "You Gotta Say Yes to Another Excess verlässt CARLOS PERÓN die Gruppe im Jahr 1984, um zahlreiche gewagte Solo-Projekte anzugehen. Viele Musikkritiker sind sich einig: Mit Beendigung seiner aktiven Phase verlor YELLO seinen rauen Schliff.
Im selben Jahr komponiert CARLOS PERÓN den Score für den Film "Die Schwarze Spinne" (Der Komtur). Mit "Wolfsheim" und dem Titel "The Sparrows and the Nightingales" erobert PERÓN mit diesem Newcomer-Act zu einem späteren Zeitpunkt die Charts. Zu finden auf allen guten Onlinestores (Amazon, iTunes, Napster, eMusic etc.). Unterstützen Sie den Künstler und kaufen Sie die Musik. Copy kills music!
Musik und Text: Carlos Perón
Produced, mixed and mastered by CARLOS PERÓN for EISENBERG édition
SUITE 51 is a Trade Mark and member of the GEMA.
LC 19084 SUITE 51
© 2009 MCDP International Distribution & Publishing
Titel: Frohes Fest
[audio:streaming/S51D505/dex310950501.mp3] [spoiler] Titel: Alle Jahre wieder
[audio:streaming/S51D505/dex310950502.mp3]
Titel: Oh Tannenbaum
[audio:streaming/S51D505/dex310950504.mp3]
Titel: Oh, du fröhliche
[audio:streaming/S51D505/dex310950505.mp3]
Titel: Frohes Fest (Medley)
[audio:streaming/S51D505/dex310950508.mp3] [/spoiler]
Find the music in all good online stores like Amazon, iTunes, Napster, eMusic etc. Support the artist and buy their music. Copy kills music!
RSS-Feed zu dieser Kategorie (Suite 51)

Copyright protected © 2012