28. Februar 2005 | Abgelegt unter Labels, R'n'R / Rockabilly, Style, Vampirette Music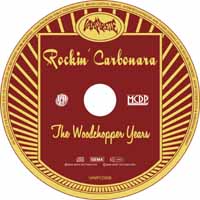 Ein Italiener spielt den Rockabilly: Treibender Rhythmus der 50er Jahre und italienisches Temperament. Was für ein explosiver Cocktail!! Von stampfenden Rockabilly groves, über bluesigen Klängen bis romantisches Swingen, Rockin' Carbonara treibt es wild und entschlossen.
Diese wilde Gang um den Sizilianer, Sänger und Bassisten Nick "Carbonara" Bisognano ist wohl eine der explosivsten Mischungen, seit es würzige Pasta gibt! Wenn Nick mit seinen Kumpanen zur Rock'n'Roll-Show bittet, ist jeder hilflos dieser unschlagbaren Energie ausgeliefert! Das alleine ist es aber noch lange nicht, was diesen charismatischen, sizilianischen Bassvergewaltiger ausmacht: Seine Show, die er zusammen mit seinen Musikern auf den Bühnen dieser Welt schmeißt, drückt aus, was Rock'n'Roll bedeutet: Lebensfreude, Schweißtreiben, Liebe, Sex, Freiheit, Nostalgie, treibender Rhythmus….
Seit Jahren sind Rockin' Carbonara eine der meistgebuchten Rockabilly-Bands Europas. Neben ihren Shows, TV-Auftritten und Tourneen in Deutschland, Holland, Belgien, Frankreich, Italien und der Schweiz sind sie immer wieder gern gesehene Gäste in den renommiertesten Clubs, bei Festivals und Events. Ihre Professionalität beweist sich in Ihrer Bühnenperformance, drückt sich aber auch in den Eigenkompositionen aus, die mit fetzendem Rockabilly, Rhythm & Blues oder Swing das Publikum überzeugen…
TV Auftritte u.a. neben DJ Bobo, Livesendungen, Casting-Shows (Bulli Herbig's "Wickie und die starken Männer") sowie regelmäßige Radio-Performance und Gastauftritte beeindruckte auch Sänger "Reamonn" (Supergirl), der sie kurzentschlossen für Shows nach Irland buchte.
Die vorliegenden Recordings stammen noch aus der Zeit der "Woodchoppers", Nick's erster Band. Mit Rockin' Carbonara führt er die Songs weiter und vermittelt damit mehr Lebensfreude denn je! Diese CD, von Vampirette Music nun endlich neu aufgelegt, wird damit erstmals einem breiten Publikum zugänglich gemacht.
The wild gang of musicians surrounding the Sicilian singer and bass player, Nick 'Carbonara' Bisognano, is probably one of the most explosive mixtures since the invention of spicy pasta! When Nick and the guys start their Rock'n'Roll Show, everyone becomes a helpless victim of his unstoppable energy! But that's not all, what makes this charismatic little Sicilian 'Bass Maniac' so special. The performances that he gives with his guys on the stages of the world express the true meaning of Rock'n'Roll: Joy of life, streaming sweat, love, sex, freedom, nostalgia and driving rhythm, just to give a few examples….
For years, Rockin' Carbonara has been of the most booked and requested Rockabilly Bands in Europe. Following to their TV appearances, shows and tours throughout Holland, Belgium, France, Ireland, Germany, Italy and Switzerland, they're always welcome guests at the most popular clubs, festivals and events. Their professionalism is proved not only by their live performances, but also by their original material which pleases the audience anywhere they play.
These recordings were made during the time of 'The Woodchoppers' , Nick's previous band. With Rockin' Carbonara, Nick takes the lead on the songs and brings more joy of life than ever before! With this relesease from 'Vampirette Music', these recordings are released for the first time and will be made available to a large audience.
Keine Kommentare »
Einen Kommentar schreiben